According to the Economist Intelligence Unit, Preparing for disruption: Technological readiness ranking report, Australia ranks equal first for technological readiness alongside Singapore and Sweden.
Australia is globally recognised for cultivating a culture of innovation and entrepreneurship through the integration of technologies with traditional industries such as agtech, medtech, fintech, mining, resources technologies, and education.  In the Deloitte Access Economics, Australia's Digital Pulse 2019, the country's digital technologies sector contributes around A$122 billion (6.6 per cent of GDP) to the Australian economy each year and is expected to grow 40 per cent between 2018 and 2023.
With COVID-19 massively accelerating digital adoption across industries worldwide, Australia's technology advancement placed the country in a fairly fortunate situation, enabling its people to thrive amid the challenges of social distancing and lockdowns. For the education sector, teachers and students are well ahead of the curve in terms of having the tech advantage as some are already familiar with online learning platforms.
Adopting Digital Innovations
In this article, we look into the digital technologies that Australia has been harnessing to navigate and thrive in today's new world.
COVIDSafe App
Australia was one of the first nations that have systematically built a contact-tracing platform with privacy safeguards. COVIDSafe App, the only contact app approved by the Australian Government, mitigates the manual process of finding people who have been in close contact with someone with COVID-19 and helps stop the spread of the virus. Since downloading the app is voluntary, state and territory health officials can only access app information if someone tests positive and agrees to the information in their phone being uploaded.
Digital Learning Platform
COVID-19 has magnified the benefit of quickly adopting a blended education system in Australia. During the height of the pandemic, most universities and colleges were already equipped with digital learning platforms and well-trained educators to be able to deliver the right mix of online learning and limited in-person teaching.
QR codes 
QR (Quick Response) is the digital way of instantly capturing and storing data and is normally used as an electronic check-in system.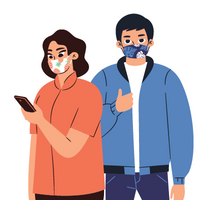 In January 2021, the NSW government launched the Service NSW COVID Safe Check-in QR code system to help people and businesses with contactless customer or visitor record-keeping and help NSW Health with quick COVID-19 contact-tracing. Since July, retail businesses, supermarkets, individual shops within shopping centres, entry points at shopping centres, gyms, offices, call centres, manufacturing and warehousing businesses, universities and TAFE, and schools including teachers and visitors – such as parents and contractors – were required to use the state's check-in system.
QR codes have also been used as an instant payment solution like in Alipay and WeChat. In Australia, eftpos, the country's national debit card scheme, announced in July that it had built a new QR code payments experience infrastructure– ready for commercial trials soon– to provide secure and enhanced consumer purchasing and engagement experiences through loyalty, offers, receipts and added security.
Facial Recognition Software
GenVis, a Perth visual AI company developing AI-powered video surveillance and analytics solutions, has designed a facial recognition software that allows police check people are home during COVID-19 quarantine. NSW and Victoria, two of the most populous states in Australia, are trialling GenVis' facial recognition products voluntarily.