Nurses Alma and Paulo built their dream home in Australia amid the most extraordinary circumstances during the height of the COVID-19 pandemic in 2020. 
Meet Alma and Paulo– young, inspiring healthcare professionals who have crossed continents to chase and have successfully established careers and built a comfortable life in the land down under. Suffice to say, achieving their personal and professional goals in just short 5 years is a result of relentless education, training, sweat, and unbreakable teamwork.
In this article, we take a sneak peek at how the Filipino couple accomplished their ultimate goal of building their dream house in Melbourne, Australia while excelling in their sworn duties as Aussie nurses during these unprecedented times. Aside from their inspiring story, Alma and Paulo also shared some essential information that could be of significant help to those who aspire, are intimidated in building a house, or pursuing their life goals in general.

Alma and Paulo came to Australia in 2016 intending to obtain a nursing degree. Both successful in their respective areas of expertise in Qatar– Alma was a day procedure nurse and Paulo a Trauma ICU nurse– they brought with them their experiences and grit when they stepped foot in Melbourne. As soon as they landed full-time jobs and received their Permanent Resident status, the next natural progression for them was to purchase a property.
Here are some of the key points Alma and Paulo shared that helped them achieve their ambitious goal of building their first home in Australia during the pandemic:
Financial capability. With a steady stream of income and stable professions, the couple purchased a block of land in May 2019.
Loan eligibility. Aside from knowing that they are financially capable to fund a house construction, Alma and Paulo made sure that they are eligible to get a loan for their set budget. Considering the pandemic impact on work and the economy, the couple ensured that they could still sustain the mortgage and other expenses in the extreme case that one of them will not be able to work.
A suitable location for your lifestyle. Living in Melbourne for over 4 years, staying within the same area (eastern suburbs of Victoria) is the most logical option for them. They have been familiar in the east and southeastern suburbs and their family, friends, and go-to places are within the area. After considering other suburbs like Greenvale in the Northern area; Eynesbury and Werribee in the Western area; and Berwick, Cranbourne, and Clyde in the Southeastern area, Berwick captured the couple's heart. Aside from Berwick's green and luscious environment, major hospitals, schools, trains, public transportation, and shopping centres are also close by.
A trusted home builder. From friends' recommendations and a bit of research, they settled on a builder that would satisfy their requirement for the floor plan that is suitable to both their lifestyle and budget.
Take Tasks. As a team, Alma and Paulo worked on tasks that they are good at. Paulo took charge of the interior design and coordination with the building manager while Alma focused on the contract and particulars of the build.
Building a house during a pandemic might seem impossible, but Alma and Paulo made it happen. Despite the COVID-related restrictions and a few setbacks, they had a pleasant experience overall. From the original schedule of 252 days of construction, the build only took 131 days– from establishing the temporary fence to getting their house keys.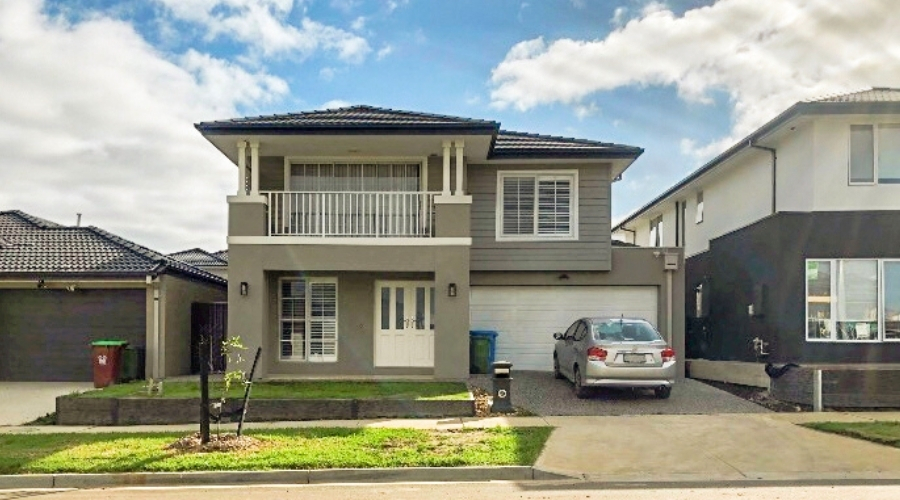 "Our build started just in time when the pandemic hit Australia. The Australian government set strict rules on the construction industry. It includes the restriction of homeowners from visiting the site and only 5 people are allowed during construction. Materials imported from overseas and interstate were greatly affected as well which contributed to multiple delays," they detailed.

Alma and Paulo took on a feat. Sticking to their plans and ensuring a system of checks and balances made their vision come to life. For those looking into the same pathway, here's what they say:
"Dreaming is powerful as it fuels motivation. We have been inspired by the stories of our friends who shared their journey in achieving their goals. Working under a student visa, we have limited work rights, and getting our nursing license is a time-constricted process. We used to work odd jobs like managing photo booths, selling headbands during New Year's Eve, and working in aged care. We, then, progressed to juggling casual hospital jobs and worked really hard to get the full-time position in the company we dreamt of being employed in.

SAVE, SAVE and SAVE whenever you can. A few sacrifices can go a long way, believe me, we've been there. In 2017, we asked for assistance from a broker to shed light on our financial status and how much more we need to save, in order to purchase a property. In addition, we set our goals straight and we made sure that we set aside at least 75% of our individual earnings. We did not travel to other countries nor were we able to visit home since we arrived here in Australia. Also, we have been sale junkies; we only score on 50% off items and 2$ bar soaps in packs of six. We celebrate small wins too; with a 1$ cheeseburger from Maccas or a cheap meal at a food court Chinese viand. Of course, we were not always a miser, a few dollars added to our savings means fancier celebrations in wonderful restaurants. I'd say, be wise on your expenses and spend only needed and only if you have the money spare."
We'd like to thank Alma and Paulo for their generosity in sharing their success story. We hope this reminds us that life goes on and we can continue to forge ahead despite the uncertainties.