The latest joint statement by the Departments of State and Education announced in July reassures Americans and aspiring international students that the the US government remains committed to implementing broader international education efforts.
Amid the unprecedented challenges the coronavirus pandemic brought to the education sector across the globe, the United States government ensures that it continues to be one of the leading higher education destination for students around the world. In the 2019-2020 academic year, the country still hosted over 1 million international students and remains to be the top global destination for those studying abroad according to data from the Open Doors Report on International Education.
The government has been updating its Visa policies to accommodate entry of eligible international students. In May, students with valid F-1 or M-1 visas traveling to begin or continue an academic program do not need to contact an embassy or consulate to seek an individual National Interest Exceptions (NIE) to travel. NIE eligibility for students who have been present in Brazil, China, India, Iran, or South Africa applies only to programs that begin on or after August 1, 2021.
During the 2021 EducationUSA Forum, U.S. Secretary of State Antony Blinken announced the Joint Statement of Principles in Support of International Education, which emphasizes that nurturing  a vibrant community of international students remains to be one of the country's foreign policy imperatives.
"The United States cannot afford to be absent from the world stage: U.S. leadership and engagement makes an essential difference abroad, as well as at home. Indeed, in today's interconnected world, our foreign and domestic policies are inextricably intertwined in pursuit of a preeminent goal – improving the lives of the American people," the statement read.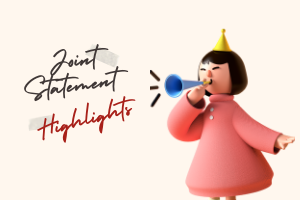 Here are some of the key highlights of the joint statement by US Department of State and Department of Education–committing on taking actions to support a renewed focus on international education:
Participate in a coordinated national approach to international education, including study in the United States by international students, researchers, and scholars; study abroad for Americans; international research collaboration; and the internationalization of U.S. campuses and classrooms.
Emphasize the U.S. government's commitment to support key facets of international education, in partnership with U.S. higher education institutions, schools, state and local governments, non-governmental entities, the business community, and other stakeholders.
Welcome international students, researchers, scholars, and educators to the United States in a safe and secure manner and encourage a diversity of participants, disciplines, and types of authorized schools and higher education institutions where they can choose to study, teach, or contribute to research.
Promote expanded access to international education, including through the use of technology where in-person experiences are not feasible, to connect U.S. students, researchers, scholars, and educators with their peers abroad.
Implement policies, procedures, and protocols so as to facilitate international education and authorized practical experiences while promoting program integrity and protecting national security. Clearly communicate policy guidance and implement fair, efficient and transparent support processes while maintaining national security and upholding the law.
The joint statement also stressed that the country's efforts in reinforcing international education  strengthens relationships between current and future leaders, which is critical in addressing today's shared challenges, enhancing American prosperity, and contributing to global peace and security.